Green Maritime Forum
Scheduled
Events
Hamburg, Germany
Map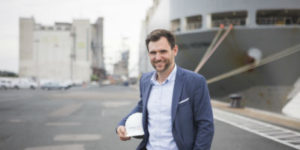 Dr. Matthäus Wuczkowski will be speaking at the Green Maritime Forum on the 23rd-24th of April 2018, in Hamburg, Germany.
Dr. Wuczkowski is Head of Sustainability Management at Niedersachsen Ports, Germany, and is lead partner of the Green Port Officer and LED pilot in DUAL Ports.
Green Maritime Forum offers a comprehensive programme with focus on the expansion and development of shipping related processes. Utilizing the knowledge of expert speakers, industry leaders will be able to obtain the tools and practices they need to cultivate the most innovative and environmentally-friendly Maritime business.
The Green Maritime Forum will also engage speakers and fellow attendees in learning together, offering powerful insights on current industry trends, forming partnerships, identifying business growth opportunities, and cementing companies' role as a force for good when they look for ways to protect the environment.
You can read more about the Green Maritime Forum and other speakers here.