The Sail Cargo Network will present in Copenhagen
Scheduled
Events
Sail Cargo Testing
Istedgade 6, Vesterbro, Copenhagen, Denmark
Map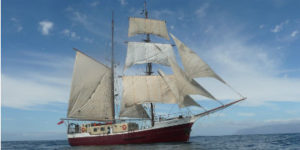 On the 19th of March our partner Madadh MacLaine of Fair Winds Trust will be presenting DUAL Ports and the Sail Cargo Network at an event in Copenhagen, Denmark.
IWSA member, Captain Geoff Bourne is currently engaged in refitting his sail cargo vessel, the SV Lo Entropy in Hundestad, Denmark with the intention of operating her in the Baltic later this year onwards – carrying 36 tons of cargo and up to 8 passengers.
At this Copenhagen event Geoff, a  veteran sail cargo captain in the Caribbean and East Africa, will introduce the vessel and his company plans.
You will also have a chance to hear from Gavin Alwright, Secretary of the International Windship Association.
The event will be held at City Hotel Nabo, Copenhagen V, 50 meters from the west side entrance/exit of Copenhagen Central Station.
You can read more about Captain Geoff Bourne's vessel, SV Lo Entropy on their website.