4. November 2019
Small ports take big steps for sustainability at GreenPort Congress 2019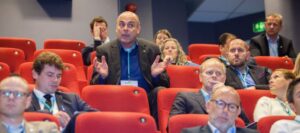 We can all learn from small ports
During the closing session of GreenPort Congress 2019, small ports showcased the steps they have been taking to tackle emissions and build operational environmental awareness with limited resources.
The Port Authority of Skyros in Greece's Aegean Sea has invested in electric vehicles, an airborne particles station at Linaria Port and runs university and school volunteer programmes as part of its bid to be sustainable.
Planning and committing to environmental initiatives is not an easy task as Kyriakos Antonopoulos, president of the voluntary-run port authority explained. In post since 2005, with no staff and without a salary, Mr Antonopoulos said the "annual budget of the port is only €150,000" and finances have been constrained by "Greek austerity", while the future of the port is uncertain.
Currently owned by 300 local shareholders resident in Skyros, the port may be privatised and incorporated into a larger port group, Mr Antonopoulos said.
Student volunteers
Still the port has managed to introduce an impressive amount of eco measures into its passenger, commercial and fishing operations. These include annual sea bed clean-ups, regular oil spill exercises, a ship-generated waste management plan, recycling of waste materials and use of electric vehicles. This is alongside work with the University of Patros to set up an airborne particles station.
Skyros' student programme aims to bring participants back to nature and boost mental health. The eco-therapy-focused Skyros Project enables students to undertake two-month internships and live in an eco-village.
The project became possible when the port formed a relationship with Greece's University of the Aegean in 2015. Cooperating with universities and volunteers is a feasible way of achieving change for ports with no financial leverage, explained Mr Antonopoulos.
Constantina Skanavis, professor in environmental communication and education at Greece's University of West Attica, has been working with the port since being in post at the University of the Aegean. Before working with the port, she noted that small ports didn't have the funding or infrastructure to achieve what bigger ports could and wanted to get students involved in Skyros' environmental work.
"I was able to convince college students from all over the world to come to this small island and live with us for two months. We showed that by being in contact with the sea, working outdoors, constructing things from nature. All of a sudden they became very happy. Promoting responsible behaviour was my goal," said Professor Skanavis.
The success of the Skyros project means that it is set to be made into a foundation next year.
This work hasn't gone unrecognised. In 2018, Skyros secured Blue Flag status, awarded by the Hellenic Society for the Protection of Life Nature, and the Skyros Project won a 'Minimal waste and Public Choice Award' as part of the I LIVE GREEN video competition run by the European Environmental Agency (EEA) and its partner network in 2018.
The year before it became part of ESPO's EcoPorts network, the smallest member to date. It is also part of the Ecocity Forum.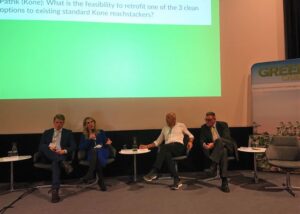 Port of Helsingor
Jonatan Sandager Hansen, project manager at the Port of Helsingor in Denmark explained that the port's proximity to local communities necessitates careful consideration of air quality and noise levels.
Helsingor, which focuses on ferries, dry bulk and cruise operations, aims to build new quay with shore power. The port currently has small amount of shore power, but not enough to power a cruise ship, explained Mr Hansen.
But while it has ambitious plans for shore power, and currently has an electric tug and hybrid forklift –  made possible as equipment manufacturers are offering machinery in different price brackets, it cannot afford to replace equipment on the scale of a larger port, only when current equipment no longer works.
However, is facilitating the reduction of its carbon footprint, wherever possible. It has invested in wind power, accommodates battery-powered ferries and supports short-sea shipping. The port also uses local contractors with the aim of ensuring contractors minimise the distance they drive to cut emissions, and to make sure money spent goes back into the local community, while offering a sense of ownership for local citizens.
"There is a lot being done to make sure emissions and sound are as low as possible," Mr Hansen said.