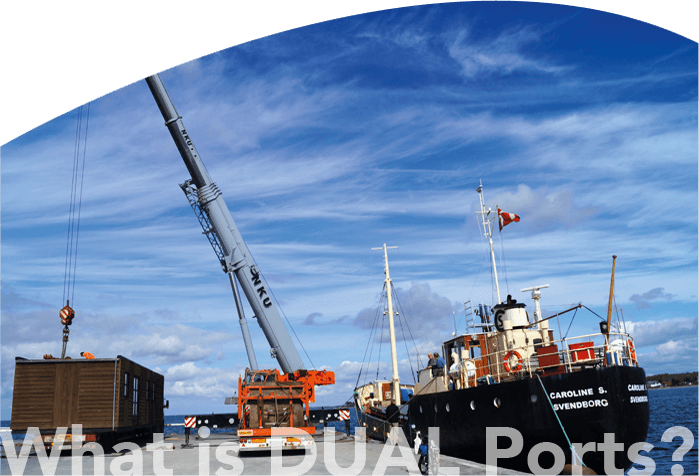 DUAL Ports aims to decarbonise Regional Entrepreneurial Ports
(REPs) ́ resources through a shared eco-innovation port programme
that minimises their environmental footprint.
The objective of DUAL Ports is
reducing the environmental footprint
of regional entrepreneurial ports.
improving the sustainability of port operational
and administration resources.
promoting responsible growth and supporting
eco-innovation oriented development.
The project will ultimately enhance ports' energy efficiency
and performance, facilitating low carbonization at reduced cost,
with added value in terms of knowledge and investment.
DUAL Ports is an Interreg North Sea Region project started
in December 2015, with a duration of 3 years. In December 2018
DUAL Ports was extended until 2021 with an increase in partners,
pilots and budget.
DUAL Ports is based on the operational pilots
in Regional Entrepreneurial Ports (REP's).
DUAL Ports will be measured in the concrete success of the pilots
and the pilots' tranferability to other REP's.
DUAL Ports addresses the Programme objective of promoting
resource efficiency and stimulate the adoption of new products,
services and processes to reduce the environmental footprint of
regions around the North Sea.

PROJECT PARTNERS
Port of Oostende
Business Vordingborg
Port of Vordingborg
Port of Skagen
Orkney Islands Council Marine Services
ITM Power
Fair Winds Trust
Port of Zwolle
Hamburgisches WeltWirtschaftsInstitut (HWWI)
Niedersachsen Ports GmbH & Co. KG Branch Emden
Port of Hvide Sande
Hvide Sande Fjernvarme A.m.b.A
Laminaria BVBA
Uppsala University
Celtic Cruises Ltd
Seabased Industry AB
Greenpipe
Want to know more?
Sign up for our newsletter here.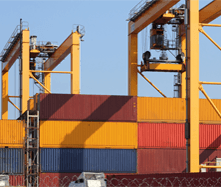 Facts about DUAL Ports

 Duration: 2016-2021

 Budget: 8.6 mio. euro

 The participating ports
and local authorities are
expected to implement
initiatives that will reduce
carbon emission

 The Port of Oostende
is Project Leader of
DUAL Ports

 Business Vordingborg is
responsible for the com-
munication of the results
of the project