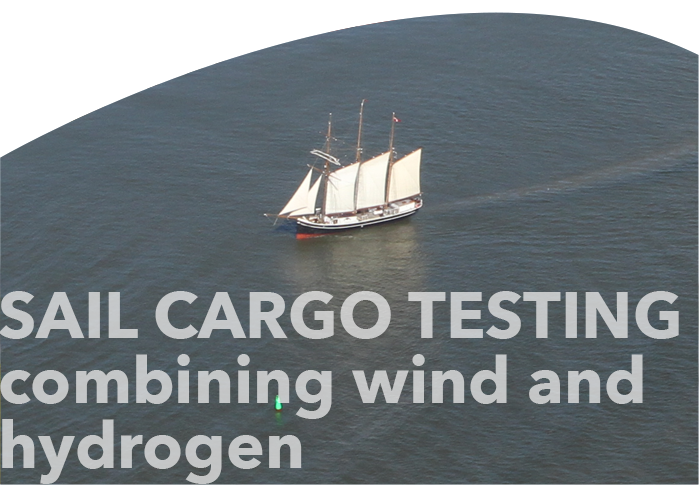 SAIL CARGO TESTING
The pilot aims to test the adaptation of a sail vessel to innovatively transport cargo by combining wind propulsion (and, if feasible, solar/wave power) to hydrogen generation. The first step will be refurbishing a sailing vessel to carry cargo up to 52 tons. The next step will be to try and become a zero emissions sailing vessel, using hydrogen to fuel an electric motor, to go in and out of port.
Celtic Cruises will work with the support of FWT (responsible for the monitoring), the Port of Oostende, and the DUAL Ports partners involved in hydrogen production. The pilot will also investigate the market opportunity of establishing a cargo transport network with Oostende as a key node. An internet platform will be created by FWT to give accessibility to this transport mode to industry stakeholder and the wider public, thus facilitating the roll out of Celtic Cruises ́ experience.
So far, the DUAL Ports Sail Cargo (SC) activity has highlighted that, although transporting goods by sail can reduce both carbon and costs, there are currently no SC concrete projects which are achieving this. This is due in part to: a lack of SC shipping companies with clear business plans; a lack of awareness of the potential of SC on part of cargo owners and the general public; obstructive policy and regulations regarding sailing ships in ports and transnational maritime shipping on ships. The SC real testing will assess the potential for a wind propulsion vessel to be converted innovatively into a cargo boat for a fully 'green' transportation of commodities by combining wind and hydrogen, this even extending the green component of the SC concept.
Celtic Cruises's pilot initially builds on the Sail Cargo Business case developed by DUAL Ports, by concretely testing the upgrade of a sail vessel to transport freight, utilizing Oostende as key node. The innovative production of hydrogen as energy source will be achieved by transferring the boat ́s wind propulsion to an electroliser which converts it into H2, whereas in the HEAT pilot it is created using the rest energy from wave & offshore wind farms and in the new SEA POWER pilot by wave power. Hence, 3 different comparable techniques to realise a fully environmentally friendly carbon-free energy.
  Key Pilot working group

 Celtic Cruises

 Fair Winds Trust

 Port of Oostende

 ITM Power

 Orkney Islands Council

 HWWI