27. June 2019
And the winner is…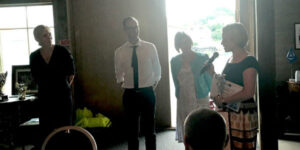 At the North Sea Climate Conference on the 25th of June, the DUAL Ports partnership was awarded with the runner up for 'best video' in the second annual NSR Video Contest. The award was handed over by the President of the North Sea Commission, Kerstin Brunnström.  

Lise Espersen from the Interreg Joint Technical Secretariat presented the winner and the runner up for the NSR Video Contest at the opening dinner of the North Sea Climate Conference, that was held in Marstrand, Sweden.
The DUAL Ports project was selected as the runner up between 11 different entries in the competition. The jury consisted of 14 judges, two from each of the membering North Sea countries, appointed by the Monitoring Committee.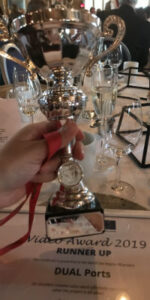 DUAL Ports communications officer Camilla Bruun Sørensen received the award on behalf of the project partnership. After thanking for the recognition, she took the opportunity to thank the North Sea Programme for the extension of the project, which will bring DUAL Ports even further in decarbonizing port business.
The winner of the NSR Video Contest was Inno-Quarter – an Interreg project that facilitates start-ups to develop business ideas in line with the UN Sustainable Development Goals, making products that help tackle climate change by reducing carbon emissions.
You can see the winning videos here and read  more about the award show.
The following day consisted of plenary discussions and workshops, focusing on practical measures necessary to tackle climate change.
This year, the youth had been included in the conference and the pre-conference Interwork event with the North Sea Commission. Jamie Wylie from the 2050 Climate Group gave his perspectives on the importance of engaging the future generation in the impacts of climate change – and stressed the fact that young people are also people, who just happen to be young.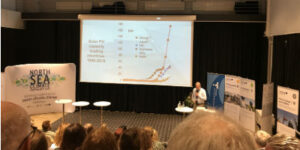 Tomas Kåberger, affiliate professor of Renewable Energy at Chalmers University illustrated how developments in wind and solar energy have exploded within the last 10 years, especially in China, making prices reach a competitive industry level.
Katharina Erdmenger, German representation to the EU, gave an update on the post-2020 discussions in Brussels, and encouraged the audience to continue the positive direction towards tackling climate change, as we are going in the right direction.