The hydrogen era of waterborne transport is getting nearer day by day at the Orkney Islands.
Zero carbon powered waterborne transport can reduce carbon emissions significantly.
Approximately 2.1 billion people use ferries every year, putting the industry on a par with commercial airlines in terms of annual users worldwide. To many cities and their citizens, travelling the waterways lies at the heart of everyday life.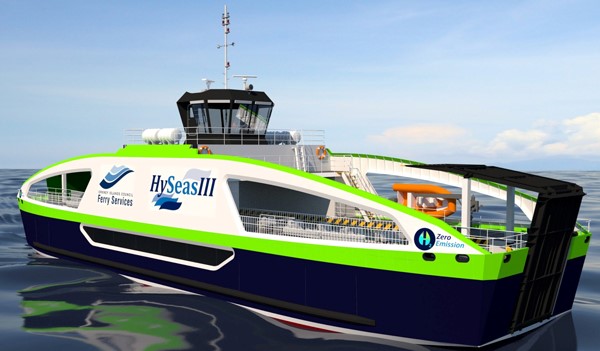 While some cities have mandated the switch to 'fossil-free' biodiesel, these vessels are still omitting harmful particles that cause numerous health issues to citizens. Despite a widespread push to reduce emissions, ferries have long been neglected in the drive to create cleaner, greener public transport in cities.
The European Commission has set out its vision to establish 100 climate-neutral smart cities by 2030, but this cannot be achieved without investing in new emission-free waterborne transport solutions.
The hydrogen era of waterborne transport is getting nearer day by day. But the switch from conventional ferry transport to Zero Carbon ferries raises a demand for training the seafarers.
At the Orkney islands the very first cohort of seafarers has been trained to work on hydrogen powered vessels have passed exams on a new hydrogen course.
Seven crew members from Orkney Ferries have completed the course, equipping them with the necessary skills to work onboard ferries powered by hydrogen, a zero-carbon fuel.
This follows on from an earlier course completed by the crew which focused solely on the handling of hydrogen as a cargo.
"It all went well, and everybody passed exam. The feedback on the training was good and the training made the crew feel secure operating a ferry powered by hydrogen," said David Hibbert, Technical Superintendent Orkney Islands Council – Harbour Authority.
The hydrogen seafarer course, believed to be the first of its kind in the world, was developed and delivered in Orkney by Orkney College UHI's Maritime Studies department in collaboration with Orkney Ferries and the European Marine Energy Centre.
The course covered a range of theoretical and practical aspects relating to the use of hydrogen fuel on board vessels. This included storage under pressure, safe working practice around hydrogen gas, bunkering, firefighting as well as operational and safety management procedures specific to the hydrogen equipment installed on the MV Shapinsay.
"The crew members have been very engaged in the training being very open for innovative solutions and changes in the way you operate a ferry. These changes are a part of the green transition, and the seafarer are very openminded for this change," said David Hibbert.
The firefighting training took place at one of the Orkney ferries and the crewmembers were trained in how to detect hydrogen fires which are almost invisible to the naked eye by using thermal imaging, as well as the very specific ways in which fires are fought when hydrogen is present.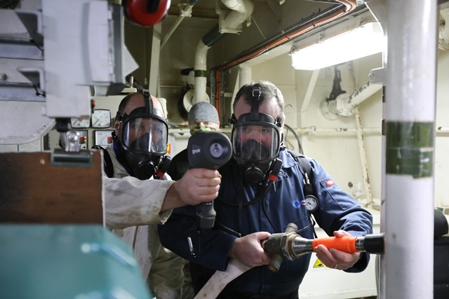 "The firefighting training simulated a fire in the engine room on the ferry. We did that by heating the engine room to simulate that it was on fire and the crew members initiated the fire fighting. It worked quite well," said David Hibbert.
The new training will be a requirement in UK waters for working on vessels using hydrogen as a fuel and is an addition to existing international requirements under the IGF code (International Code of Safety for Ships using Gases or other Low-flashpoint Fuels).
"Now we have a starting point of a conversion course to be implemented in the future, when crew members on traditional powered ferries will shift from operating conventional ferries to the Hydrogen powered ferries," said David Hibbert.
New design of Hydrogen ferry
A new design of a hydrogen powered ferry is in the making. It's planned to be put into commercial operation in 2023. The designs of a hydrogen vessel that will operate between Kirkwall and Shapinsay was revealed back in October 2021 and is awaiting final approval later this spring.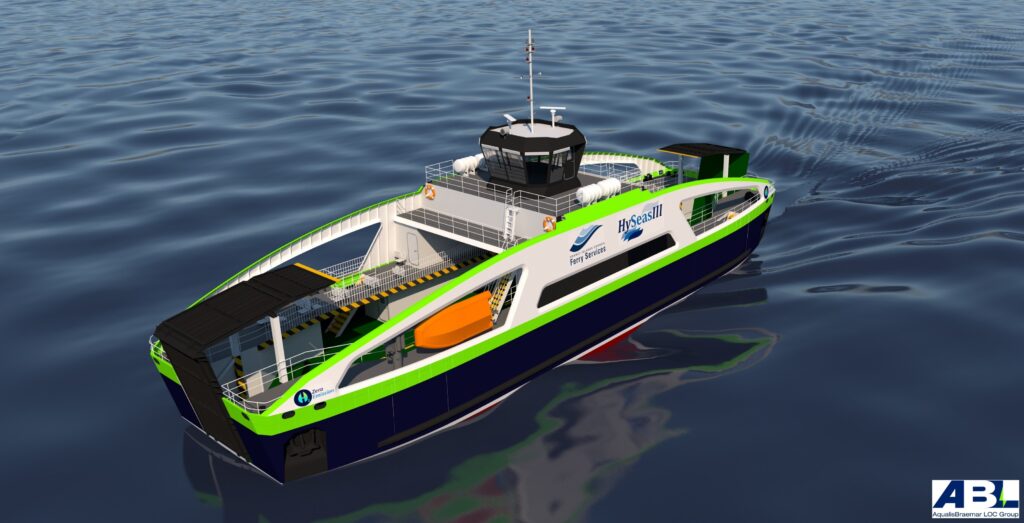 The Orkney islands produce more hydrogen than they can use, so the next logical step is needs so the logical step is to make transport fuel with this in the form of hydrogen. This potentially opens a significant new market for fuel cells, in the first instance the small lifeline ferries that serve remote islands and coastal regions which may also have similar renewable energy resources.
Facts – Port of Orkney – Ferry services
9 vessels
74 routes
13 islands served
20.000 sailings per year
Facts on Hydrogen
Hydrogen can be produced by electrolysis of water (H2O) by using an electric current to split water into its component parts of Hydrogen (H2) and Oxygen (O2).
Production of hydrogen uses renewable energy to power to the electrolysis of water.
A unique pilot project with floating solar panels was launched in mid-January 2022 in the Belgian Port of Oostende. The purpose is to test whether the technology works and especially whether the floating solar power plant can cope in changing weather conditions.
Greenpipe, with great support from project partner HelioRec, is proud to announce the successful installation of the floating solar plant. The 10kWp floating solar plant was installed on the 14th of January 2022 in the Port of Oostende as a part of the DUAL Ports EU program.
Greenpipe is the project partner to Dual Ports with Heliorec as a subcontractor for the installation and analysis.
The French-based startup HelioRec was founded by Polina Vasilenko in 2019. She is also CEO of the innovative company: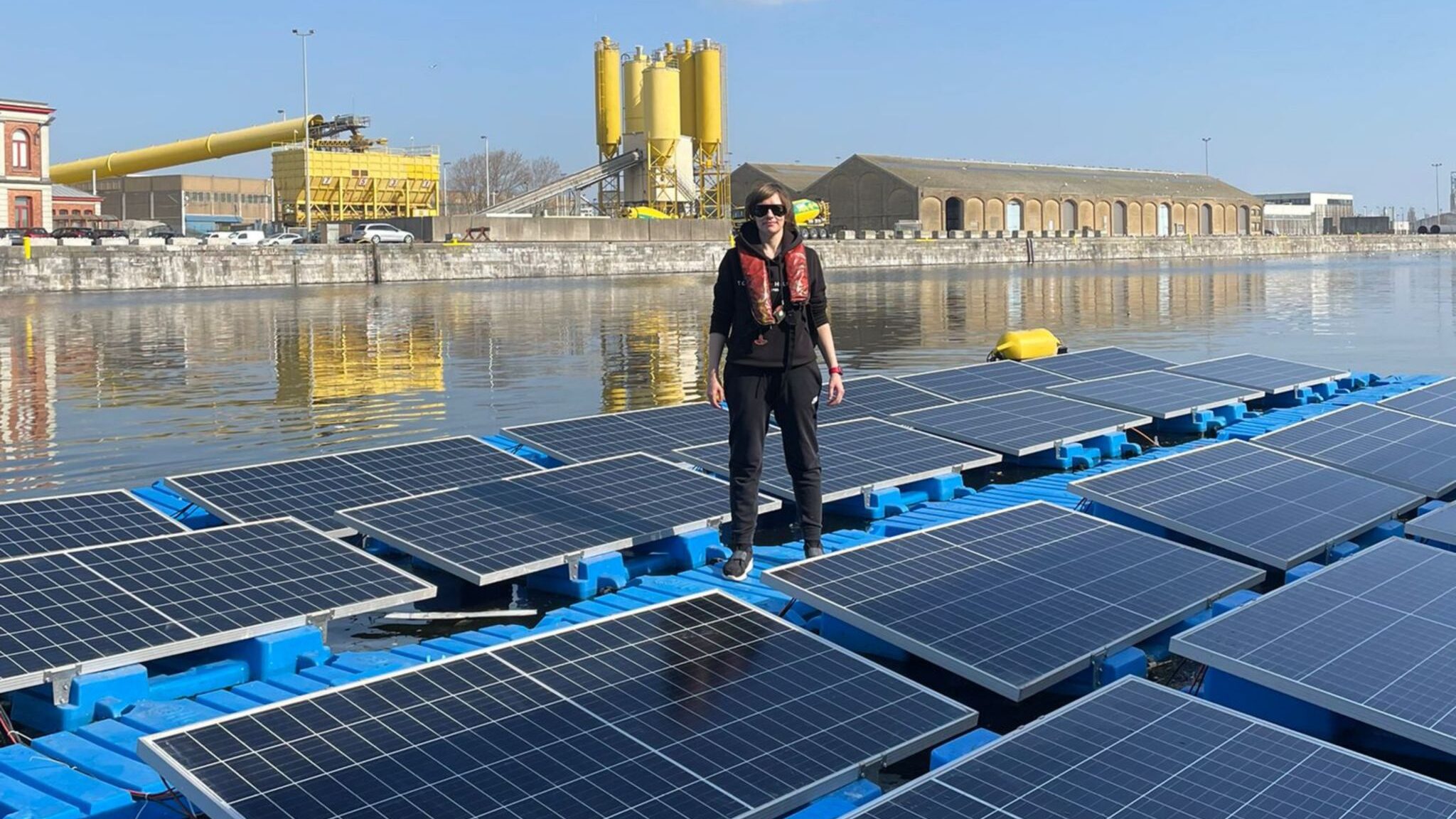 "The project during the current challenging time has been successful thanks to the great support from all parties. It engaged 10 companies from 7 countries. The floating solar plant in Ostend port helps us to improve technology, step closer to commercialization, and contribute to building the clean and sustainable European ecosystem", said Polina Vasilenko.
The 10kWp (130 m2) floating solar project was built as a key part of the DUAL Ports EU-funded initiative. The system is designed for 44 m/s wind speed and 2 m waves.
During storm Corrie and Eunice in February the installation was tested with high windspeeds from 22 m/s to 32 m/s – and the innovative power plant survived the test.
"During storm Eunice and the tough conditions, the power plant produced 6.4kWh and could supply energy for lighting and heater in the workshop at Port of Oostende" said Polina Vasilenko.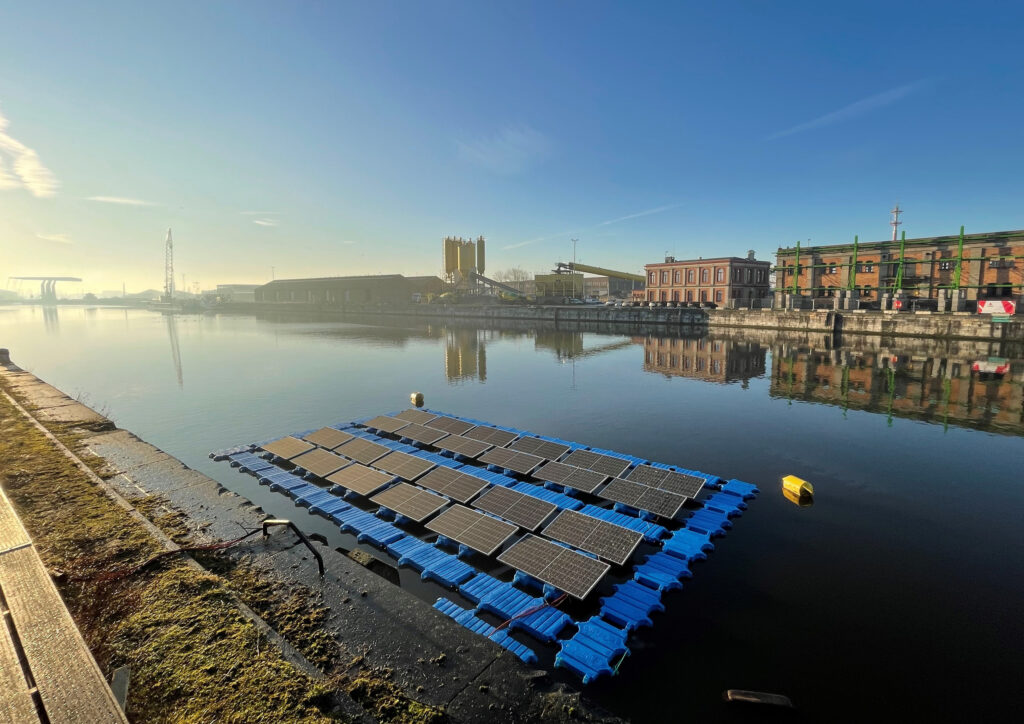 Difficult installation
The floating solar panels were assembled at the harbour and lifted into the water with a crane.
"It was quite complicated and difficult as this wasn't standard procedure. The installation was successful because of a high-level professionalism of Oostende Port team, and shortly after the installation solar power plant started to produce power," said Polina Vasilenko from HelioRec.
The power from the solar panels is used in a nearby workshop where an old boat is undergoing restoration.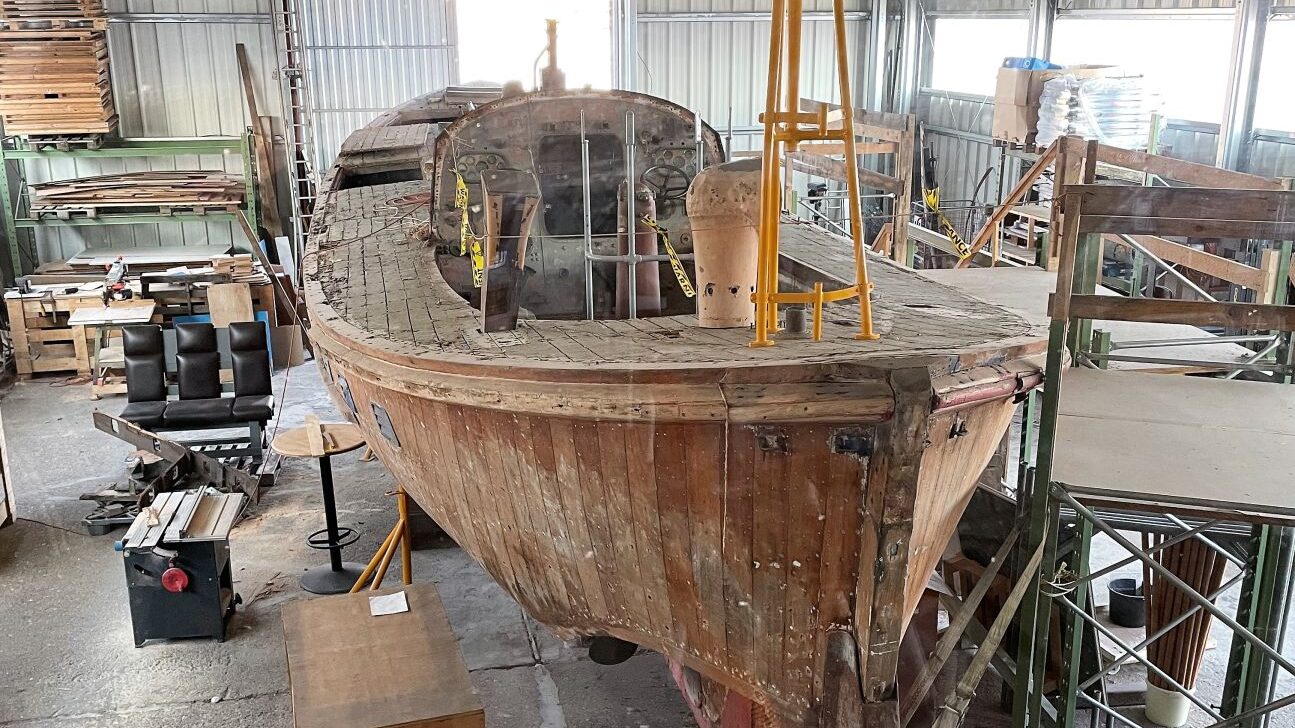 Port of Oostende facilitated the test site at the harbour and Jan Allaert from Port of Oostende is looking forward to following the testing of the floating solar power plant as it has great potential with floating solar panels in and around ports.
"We are very focused on the blue economy and innovation of new zero carbon energy solutions and we are a hub for testing solar power. Solar power has a big potential, and it is important to test the various solutions," said Jan Allaert, commercial manager Port of Oostende.
Test in two phases
The test in Port of Oostende is in two phases. Until July 14, the 130 m2 solar panels will be tested in the inner harbour behind the lock and after July 14th the floating solar power plant will be moved out of the inner harbour and onto the other side of the lock.
Among other things, the impact of the tidal difference will be tested here.
Energy storage added
Late February Heliorec added an energy storage system (ESS) to the floating solar power plant.
ESS is a specific type of power system that integrates a power grid connection with a Victron Energy Inverter/Charger, GX device, and battery system. It stores solar energy into a battery during the day, for use later when the sun stops shining.
HelioRec sees great potential in floating solar panels in and around ports and at high sea.
"Market potential is huge, and we are ready to launch large facilities into commercial operation. Our system is ready," says Polina Vasilenko.
Solar panel reduces cost and emission
In this small-scale pilot preliminary results shows that the floating solar panels is producing more electricity than the workshop could consume.
From mid- to april 1st 486 kWh was consumed and that reduced carbon emission with approx. 115 kg and electricity costs with approximately 145 euro.
Project benefits:
Saving land space
Clean energy
Grid dependence reduction
System movement analysing and correlation
with energy production
See more details on the floating solar panels in this document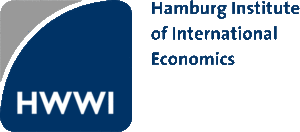 DUAL Ports partner Hamburgerisches WeltWirtschafts Institut (HWWI) has published a report about Cost benefit analysis (CBA). CBA is a systematic approach to compare the costs and bene-fits of alternatives, e.g. a decision between the construction or non-construction of a traffic light, in order to assess the welfare change. The purpose of a CBA is to facilitate a more efficient allocation of resources, mainly in terms of investments decisions. In order to assess the performance of the low carbon port development investments funded within the DUAL ports project, CBA can be applied.
Visit HWWI's website where you can download the report: https://www.hwwi.org/publikationen/policy-paper/publikationen-einzelansicht/developing-low-carbon-port-potential-cost-benefit-carbon-footprint-analyses.html?no_cache=1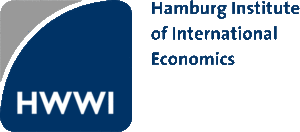 DUAL Ports partner Hamburgerisches WeltWirtschafts Institut (HWWI) has published a report/action plan that address the questions how ports can increase their efficiency, enhance their role in the industry, and become more sustainable. After presenting low carbon port activities within the DUAL ports project, the paper will derive implications for low carbon emission policies.
Visit HWWI's website where you can download the report: https://www.hwwi.org/publikationen/policy-paper/publikationen-einzelansicht/action-plan-low-carbon-regional-ports.html?no_cache=1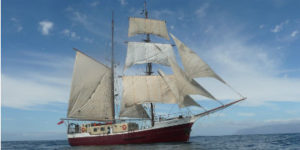 Wind in the SAIL project – partners met in the spring 2018 to discuss and develop ideas that will create new possibilities within the project. The result was a new calculation tool, that will make sail cargo transport more accessible.  
Routes by sail are often long and takes more time than direct transport by lorry or plane, so even though transport by sail has close to zero emissions, it is not very competitive. However, a meeting set at the Port of Oostende in Belgium, between partners of DUAL Ports and the Sail Cargo Alliance may have taken new steps to realise the Sail Cargo Network – a DUAL Ports pilot that will facilitate cooperation between cargo owners, ship owners and ports.
Finding the edge
Transport by sail is dependent on wind, which makes routes in the North Sea and the Baltic Sea optimal for sail cargo, due to the short distances and preferable wind conditions. A sailing ship will be able to carry the load equivalent to two lorries and will under these conditions become very competitive.
Therefore, a calculation tool has been developed, that will make it possible for cargo owners and ship owners to calculate the cost for transport. The tool takes different factors into consideration – i.e. weather conditions, passengers, tons of cargo, the price for pilotage and other costs. This will help ship owners to present and negotiate a transparent price to the cargo owners.
During the course of the workshop, this tool was implemented in an online version, that will in the end be able to make it possible for cargo owners and ship owners to find each other and negotiate a price from the calculation.
The first edition will be shown as part of an artistic exhibition at Time's Up in Malta – a futuristic exhibition, showing how people will likely interact in the future.
"This will give an idea of how the tool will look. We will develop the backend, and in the end, this tool will be able to show where a certain ship is, how much cargo it carries and when it will reach its destination, counting in routes and weather conditions. Cargo owners will then be able to calculate approximate prices and contact the ship owner", says Madadh MacLaine, founder and CEO of the Fair Winds Trust.
In order to develop and launch the tool, Madadh MacLaine hopes for an extension of the DUAL Ports project, in order to have a test run for two years. If successful, this tool will become a legacy of the project, that will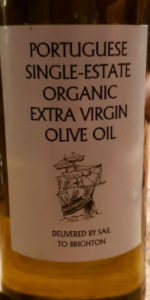 The workshop was followed by a joint dinner, hosted by the Sail Cargo Alliance, where products already being shipped by sail were presented. The guests had the opportunity to taste different wines, rum, coffee and olive oils shipped by sail from Porto, Portugal.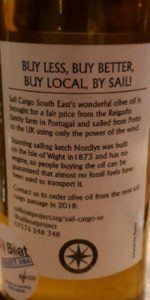 The Sail Cargo Network is thought as a natural choice for manufacturers and consumers, who wish to use a sustainable supply chain from production to end consumer.
The Sail Cargo Alliance
The Sail Cargo Alliance is a group of shipowners and cargo owners that join together to promote and enhance transport by sail.
"An alliance of organisations who share a passion for sail-shipped cargo, working together with shared ethics to create a healthy transport culture that promotes the preservation of the environment for future generations." – www.sailcargoalliance.org'
The DUAL Ports project
DUAL Ports is an Interreg North Sea Region project, 50% co-funded by the European Regional Developmental Fund. DUAL Ports consists of 8 different pilot projects that all aim to develop methods and technologies that will make regional entrepreneurial ports more sustainable, and more competitive – www.dualports.eu
The Fair Winds Trust
The Fair Winds Trust is pilot leader of the SAIL pilot in DUAL Ports. The SAIL pilot aims to create a Sail Cargo Network that will connect ship owners, cargo owners and ports, to facilitate the opportunities for sail cargo transport – www.dualports.eu/sail and www.fairwindstradingcompany.org
November 16-17, 2017
A conference for those who want to start or switch a climate-smart project.
Come and be inspired by exciting projects in the climate and energy area!
Klimatsynk, Tillväxtverket, Energy Agency and Interreg ÖKS invites you to a "lunch -2- lunch" inspiration on November 16-17 in Kastrup / Copenhagen. Eight Swedish projects, three Swedish-Danish projects and a flagship project in the Baltic Sea Strategy, tell us how they solve different climate-related challenges in the energy and transport sectors.
Let yourself be inspired, think home new ideas and maybe find your next partner!
Representatives of DUAL Ports will also be participating in this conference, promoting the DUAL Ports project, networking with other representatives, with an interest in a low carbon future.