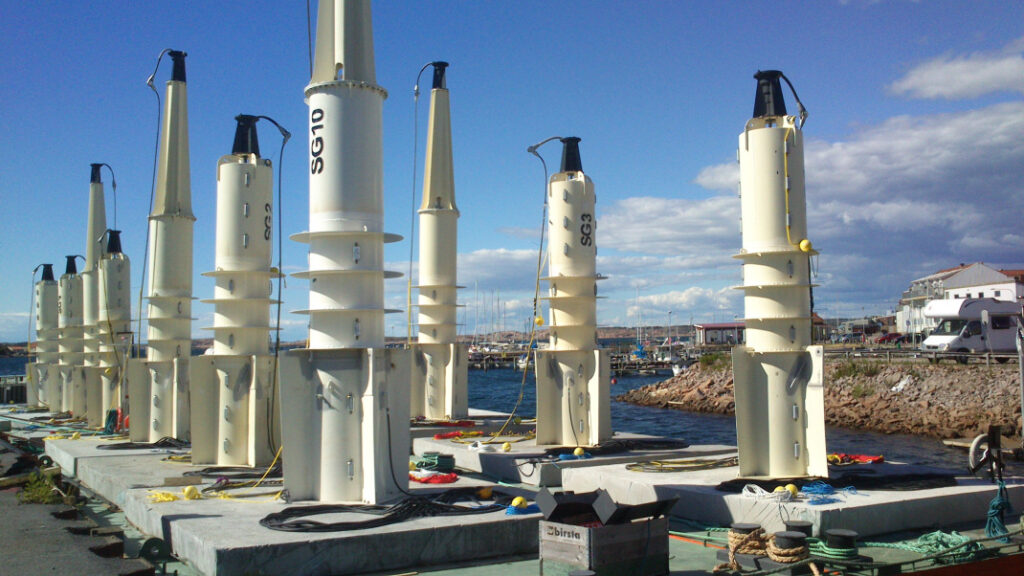 Ocean waves is an abundant yet untapped renewable energy source. Wave energy potential was assessed in a number of studies and has gone from 17 TWh/year based on a study done in 2007 to 92 PWh/year given in another study from 2016. This energy can be available at coastal areas where about 50 percent of the world's population lives. For example, according to the International Energy Agency, world total electricity final consumption in 2018 reached 22.3 PWh.
Specially invented devices, called wave energy converters are used to capture energy from waves and to convert it to a useful electrical power. The history of development in wave energy field continued for more than 200 years. The first patent on a wave energy converter was registered in 1799 by Girard & Son in France. A new era for wave energy area started in the second half of the 20th century. First commercial WECs were used in observation buoys in Japan and later in USA from 1965. An active wave energy development started in 1970s due to the oil crises and was renewed in 1990s due to climate change and global warming. So far, almost 200 different concepts have been proposed, all of them are different in way they interact with waves, transmit this motion to a generator, different types of generator, electric power transmission, etc.
Despite a long history of wave energy development, wave energy sector is not fully mature yet and can be considered as emerging. While some of the projects and concepts have become a history (TapChan, Wavedragon, LIMPET, Pelamis, Aquamarine Oyster and some others), new technologies are getting more attention and continue active development: CorPower, OE Buoy Ltd, WaveRoller, Wello, Wavepiston, Floating Power Plant, Seabased, Eco Wave Power and many others. Some of them have reached relatively high technology readiness level and have been demonstrated at a full scale in real offshore environment, others are still at a lower technology readiness level and have been tested in a smaller scale or in a protected / controlled environment.
The Offshore Renewable Energy Policy recently announced by the European Commission promotes not only offshore wind (bottom-fixed and floating) but also other ocean energy technologies among which wave energy technologies are included. The motivation is that the European companies working with, particularly, wave energy technologies are currently the forefront and have a potential to contribute to the future renewable energy system by 2050. 40 GW of ocean energy will complement offshore wind by 2050.
Ports are an integral part of global trade and commerce which are known for operating and handling large scale operations which consume sizeable amounts of energy. Port authorities and terminal operators are constantly looking for ways to reduce their fuel bills and carbon footprint. Wave energy converters placed in a proximity of ports or integrated in port infrastructures such as breakwaters can help to produce renewable energy for port needs.
For more information please contact:
Irina Temiz, Senior lecturer/Associate Professor at Department of Electrical Engineering, Division of Electricity, Uppsala University, Sweden
T: +46 70 4250552 | E: irina.temiz@angstrom.uu.se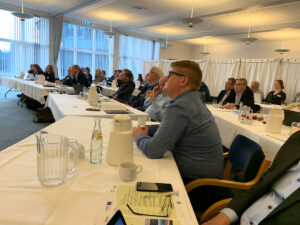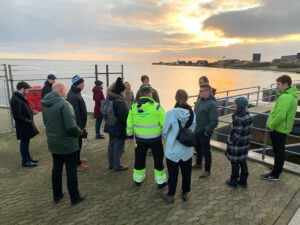 Renewable, circular energy was the topic at the workshop hosted by Port of Hvide Sande and Hvide Sande District Heating.
We have collected presentations from the speakers of the workshop WAVE/HYDROGEN/HEAT workshop, so you have the opportunity to refresh your memory or obtain the knowledge and experiences from the many presentations.
You can also read the conclusions of the workshop by Wim Stubbe, lead partner of the Interreg-project DUAL Ports here.
Presentations
Welcome to Hvide Sande and the Port of Hvide Sande,
By Mr. Steen Davidsen, CEO, Port of Hvide Sande, DK
Information about North Sea Region Program and what we can expect in next period,
By Mr. Christian Byrith, CEO, Interreg North Sea Region Secretariat Viborg, DK
DUAL Ports HEAT Pilot – Wave, Solar, Wind, Heat and Hydrogen – making Hvide Sande to a zero-emission city – How we will utilize our position at the coast!
By Mr. Martin Halkjær, Director, Hvide Sande Heat System, Denmark
Windfarms at the west coast of Jutland – Case of wind energy development in the North Sea
By Mr. Arne Rahbek, Director for Communication, Vattenfall, Denmark
DUAL Ports WAVE Pilot – Technology and potential
Case of wave energy development in the North Sea
By Mrs. Irina Temiz, PhD Senior lecturer, Renewable Electricity Production, Division of Electricity, Uppsala University, Sweden
The Wave sector in Northern Europe – Outlook, practical experiences and news.
By Mr. Jens Peter Kofoed, Head of Division, Associated Professor, Department of Civil Engineering, University of Aalborg, Denmark
Wave technology and possibilities – dual or multi tech solutions.
By Mrs. Marcelle Askew, VP Projects, Seabased ab, Sweden
Hydrogen technology and green technology. How do we combine different sources of energy?
By Mrs. Kristina Fløche Juelsgaard, Business Development Director, Ballard Power, Denmark
Hydrogen introduction in Port of Hvide Sande – How we plan to implement hydrogen to ships.
By Mr. Carl Erik Kristensen; CEO, Hvide Sande Ship Yard
DUAL Ports HYDROGEN Pilot experiences. The Orkney island case – how we use green surplus energy and how we are training in the field of Hydrogen.
By Mr. David Hibbert, Technical Superintendent, Development & Infrastructure – Marine Services, Scapa – Orkney, Scotland.
Port and City – How to combine different energy forms in port areas. Renewable Energy Cluster – Norway, The Trondheim Case
By Mr. Ole Svendgård, Fornybarklyngen – Cluster leader, Norway
How we run the Blue-Green development in our part of the world – The GRO case
By Mr. Lars Korsgaard Jørgensen and Mrs. Susanne Trip Nielsen, Ringkøbing-Skjern Erhvervsråd, Denmark
How to create a better environment in Ringkøbing Fjord – The Biomass production Case
By Mr. Kim Iversen, Biologist at Denmarks Center for Wild Salmon, Denmark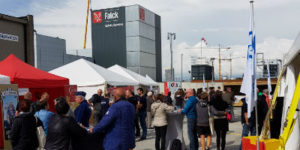 On Sunday, the 17th of September 2017, the port of Oostende had organised an open day for the public, in coordination with the Flemish government and the other Flemish ports.
The focus of the open days at the port of Oostende is the Blue Growth and sustainable development. The visits have been concentrated on the REBO-terminal where the installation and the maintenance of the offshore wind parks are organized. Next to the offshore wind energy, there has been particular attention for wave technology, coastal defence and the production of seaweed.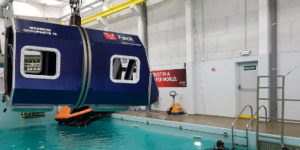 Therefore, several companies, like FALCK Safety Services, Multitech NV, Laminaria, Parkwind, MHI Vestas, GEOxyz, CMI, Noordzeekranen , Noordzee Helikopters Vlaanderen… have presented their activities and shown what kind of industrial actions are undertaken on land and at sea. Guided tours on land and at sea have been taken place.Under a nice autumn sun,  more than 2000 visitors to the port to get a glimpse of the daily life of a sustainable blue industry port, finishing the day with the tasting of new local beer, called "de Zeveroare".