9. October 2019
Exam passed: All ports of Niedersachsen Ports got PERS certified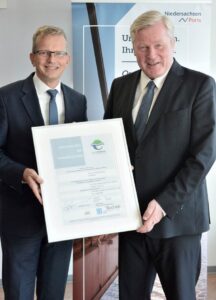 Entire port group of Lower Saxony Ports once again reaches European standards. 
In August 2019, the port company Niedersachsen Ports received the so-called PERS certificate from EcoPorts. EcoPorts is an environmental initiative of the European Seaport Organization (ESPO). It has developed a special standard for ports, the Port Environmental Review System, which examines the environmental and social impact of port activities. It also examines the extent to which environmental protection is systematically implemented in the company and how far targeted measures have been implemented, e.g. against noise, for lower energy consumption and to improve water or air quality.
"We have decided that we want to be judged against the European standards of EcoPorts with our environmental management and our activities. This certificate confirms our sustainable course. We are pleased about this as it is a confirmation of our work for the coastal region," explains Holger Banik, Managing Director of Niedersachsen Ports GmbH & Co. KG and JadeWeserPort Realisierungs GmbH & Co. KG who is joined in the picture by the Minister of Economic Affairs of Lower Saxony Dr. Dernd Althusmann.
Holistic and cross-site
For the first time in 2019, the entire port group of Lower Saxony Ports has been considered. Previously, the port locations Wilhelmshaven, Emden, Cuxhaven and Brake have been awarded individually since 2016. The reason for this change is a new, holistic approach based on the environmental management, sustainability strategy and sustainability report of Lower Saxony Ports, which was prepared this year. From the sustainability strategy to the presentation of activities and the key figures, everything is comprehensively recorded in the report.
Niedersachsen Ports is working with other European ports together on measures and strategies for the decarbonization of ports within the EU funded project DUAL Ports.