19. February 2018
A Green Port Officer for sustainability management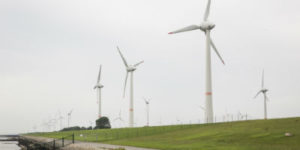 In order to secure the use of ports in the future, and still respect issues of climate change, it is important for ports to optimize their processes. That is the goal of the Green Port Officer – to implement and coordinate a sustainability management system that will ensure a continuous improvement of processes for a sustainable future.
The "Green Port Officer" is implementing and coordinating sustainability projects throughout Niedersachsen Ports, Germany. The progress made and best practice examples are shared with other partners in the DUAL Ports project, and the knowledge gained will be shared with other ports as well.
Dr. Matthäus Wuczkowski is Head of Sustainability Management at Niedersachsen Ports.
"We wish to pave the way for a sustainable development of ports. We are developing a sustainability strategy for the ports that consists of concrete goals and measures to ensure concentration on the main aspects that can make a difference, and by triggering operative projects that reduce carbon emission throughout the ports," says Dr. Matthäus Wuczkowski.
Niedersachsen Ports has an ambition to become a responsible future oriented organization by 2025, and the Green Port Officer is a significant factor to achieve this goal. To achieve this goal, different sustainability measures are being developed;
Changing light sources from traditional halogen lights or natrium vapor lamps to low carbon LED lights, e.g. in offices and storage areas.
Optimizing the heating systems at the ports, saving costs and energy.
Offering discounts for environmentally friendly ships, calling at the ports.
Implementing an intelligent lighting system at a trackfield in the Port of Emden. Read more about the LED Pilot.
Fostering the use of renewable energy at the ports (e.g. solar power or green power)
Implementing an infrastructure for e-mobility
The GPO is not only about implementing hardware, but also about sustainability communication. The goal of sustainability communication is to raise awareness among employees – By sharing knowledge gained with partners and clients, it creates awareness and a motivation to reduce carbon emissions.
Results and best practice examples will be shared transnationally within DUAL Ports and with other ports.
Facts about NPorts
Niedersachsen Ports is the owner and operator of five seaports, seven island supply ports and three regional ports on the German North Sea coast.
Several of Niedersachsen Ports' branches have been certified with PERS – Port Environmental Review System, a certification given by the European Sea Ports Organisation (ESPO).
The head quarter of the company is in Oldenburg. With its branch offices in Brake, Cuxhaven (incl. Stade), Emden and Wilhelmshaven, Niedersachsen Ports manages the port infrastructure in the large seaports of the state of Niedersachsen (Lower Saxony). The Norden branch also operates the supply ports for the East Frisian Islands. Thus, Niedersachsen Ports offers a variety of port locations from a single source.
For more information about the Green Port Officer pilot, please contact:
Dr. Matthäus Wuczkowski
Sustainability Manager
Niedersachsen Ports
Tel: +49 441 35020613