Green Shipping Summit, Rotterdam
Scheduled
Events
Rotterdam
Map
October 16-17, 2017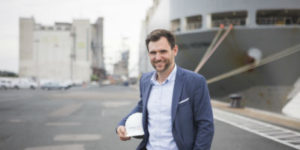 Dr. Matthäus Wuczkowski, Sustainability Manager at Niedersachsen Ports, Germany and partner in DUAL Ports, will be giving a speech at the Green Shipping Summit in Rotterdam.
Dr. Wuczkowski will be participating in a panel discussion on "The Role of Port Authorities Regarding Green Initiatives". He will be adressing ports responsibilities and their activities and the role of cooperation and knowledge sharing  – in this context  DUAL Ports will be addressed as well.
About Green Shipping Summit
The 2nd International Green Shipping Summit provides a unique possibility to meet marine professionals from across the entire value chain. This is an opportunity for industry executives to convene in order to search for viable alternative green ship technologies, network together and form new business ventures by bonding over a common goal – environmental protection. The 2nd International Green Shipping Summit is the place where companies can connect with potential clients and associate with fellow industry professionals!
Green Shipping Summit invites speakers who will hold the interest of the audience by sharing their expertise on pressing Maritime issues and current trends of the market. The diverse and dynamic group of speakers and panelists will provide in-depth insight, as well as, actionable and practical tools to implement green shipping practices worldwide. The Green Shipping Summit is an incredible platform for Maritime leaders to put their opinion and influence out there. Exchange ideas and share knowledge with all the key players in Maritime.