GreenPort Congress 2017
Scheduled
Events
Amsterdam
Map
October 10, 2017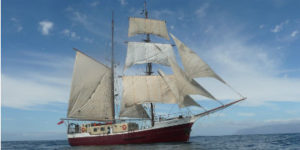 The Sail Cargo Network at the GreenPort Congress 2017 in Amsterdam!
Madadh MacLaine is going to talk about Sustainable Supply Chains via Wind Propulsion at the GreenPort Congress in Amsterdam on the 10th October. Linking the North Sea Region to an ethical maritime supply network is a key objective that the DUAL Ports project is aiming to achieve. The event will provide an excellent opportunity to showcase how transport CAN be environmentally friendly, reducing Co2 emissions and, at the same time, be economically viable, support local business and recreate traditional short sea shipping routes.
You can see Madadh MacLaine's presentation from the congress here.