11. July 2018
Innovative lighting system at port of Emden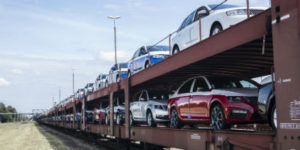 "The right light at the right time," summarizes Project Manager Aike Wollersheim in a few words the lighting project of Niedersachsen Ports. These days, construction work on the installation of an intelligent lighting system at Eichstraße in Emden begins. A track of six tracks is used there for shunting, parking and loading and unloading of car trains.
The lighting system will be built in this area as an LED system and equipped with an intelligent control system. Motion detectors as well as light and track sensors detect the respective situation. The system can be operated via SMS or an app via a technical remote control and then light is made available where, when and in which light intensity it is actually needed. "We use the potential of digitization to save resources, optimize port operations and relieve the burden on the environment," emphasizes Holger Banik, Managing Director of Niedersachsen Ports GmbH & Co. KG and JadeWeserPort Realisierungs GmbH & Co. KG.
In the future, the light intensities will be adapted to the different lighting scenarios. Thus, in the idle state, a mean illuminance of five lux is sufficient for e.g. general security and security. For the shunting operation 15 lux are required while in unloading an average thickness of 30 lux is necessary.
"We will install 14 light bridges and 11 single masts in the next few weeks. Suspension ropes and hangers are suspended by two masts, in order to be able to optimally illuminate the lanes between the trains later," Wollersheim continues. After setting up the masts, the wiring follows in the structures. The programming of the technology and a trial operation complete the construction work. It is planned to go into regular operation this fall.
Track lighting is being implemented as part of the EU-INTERREG project DUAL Ports. The DUAL Ports project aims to collaborate with ports in the North Sea Region to work together on policies and strategies to make ports more sustainable and innovative. A parallel lighting project will be realized in the Danish port of Vordingborg.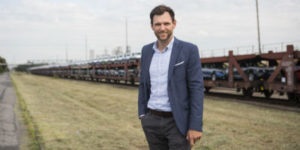 If you would like to now more about the LED pilot, please contact pilot leader Matthäus Wuczkowski, Sustainability Manager at Niedersachsen Ports, +49 441 – 35020-613, mwuczkowski@nports.de