Progress meeting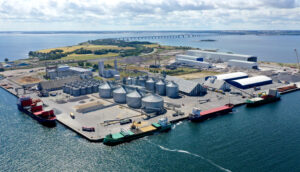 DUAL Ports will host a Progress meeting in Copenhagen on October 5. 2021.
The Progress meeting will be an exclusive event for DUAL Ports partners.
Following the Progress meeting, we have arranged a tour to the Port of Vordingborg which has worked the the SOIL project. With the knowledge attained about using recycled products such as contaminated soil, the port will double its port area during the next year.
Network with partners from other Interreg-projects
This time we have co-arranged our meeting with the NON-Stop project and North Sea Connect project. The purpose of this decision is that our projects has several similarities. Some of them being that a number of DUAL Ports partners are involved in more than one of these projects, and there is a great opportunity for network and knowledge sharing between ports, companies and organizations that are all seeking the same purpose; innovative and sustainable future in transport.
On our tour to the Port of Vordingborg, partners from the two other projects are invited to participate.
We encourage partnes to participate in the other project's activities.
DUAL Ports partners are invited to:
NON-STOP's tour to the Port of Elsingor and visit the FourSeas electric ferries on October 5th before the DUAL Ports Progress meeting
North Sea Connect's work shop on Strategies for building a sustainable future for ports an logistics corridors. Please see the invitation and draft agenda for their workshop attached.
Considering the covid-situation we will reserve the right to make any changes in order to host a safe event for everyone.