25. September 2017
Open Days in Oostende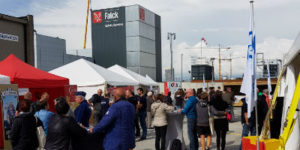 On Sunday, the 17th of September 2017, the port of Oostende had organised an open day for the public, in coordination with the Flemish government and the other Flemish ports.
The focus of the open days at the port of Oostende is the Blue Growth and sustainable development. The visits have been concentrated on the REBO-terminal where the installation and the maintenance of the offshore wind parks are organized. Next to the offshore wind energy, there has been particular attention for wave technology, coastal defence and the production of seaweed.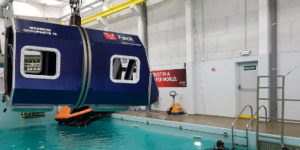 Therefore, several companies, like FALCK Safety Services, Multitech NV, Laminaria, Parkwind, MHI Vestas, GEOxyz, CMI, Noordzeekranen , Noordzee Helikopters Vlaanderen… have presented their activities and shown what kind of industrial actions are undertaken on land and at sea. Guided tours on land and at sea have been taken place.Under a nice autumn sun,  more than 2000 visitors to the port to get a glimpse of the daily life of a sustainable blue industry port, finishing the day with the tasting of new local beer, called "de Zeveroare".