25. May 2020
Port expansion stage 3 at the Port of Skagen, Denmark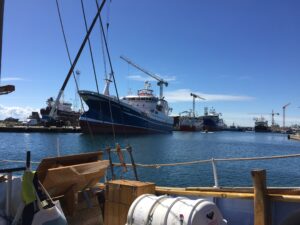 The Port of Skagen has developed a platform for stage 3 of the port expansion that is expected to be finished in the fall of 2020. The primary objective of the port expansion if to create even greater and better framework for one of the ports key activities; fishing, the fishing industry and industry that follows fishing naturally.
The Port of Skagen is the largest fishing harbour in Denmark which position is further strengthened with the port expansion.
Follow the port expansion live
The Port of Skagen has installed webcams that is live all hours of the day. From the video, you can follow the port expansion live from 4 different angles.
See the live footage here: http://www.skagenhavn.dk/dk/havneudvidelsen/webcam
Status of April 2020
The Port of Skagen started the port expansion in July 2019 and has come a long way since.
New land is established, 2,200,000 m3 of sand material pumped into 190,000 m2 of land

970 m2 of new stone throwing has been established

Anchoring of quay 40 completed

Hole head hit completed Raming of quay 41/42 is completed, anchoring has started

Excavation of existing east mill and cassion mill is ongoing

Establishment of the quay at the south pier has been completed
You can see a panorama image of the port from April 28th 2020 here: https://momento360.com/e/u/550d3bf34a3344e698d980b0755f5084?utm_campaign=embed&utm_source=other&heading=0&pitch=0&field-of-view=100
The Port of Skagen publishes videos about its progress on a regular basis. You can see the video from April 2020 here: http://www.skagenhavn.dk/dk/havneudvidelsen/videostatus