18. December 2020
Sail cargo testing pilot: Wind propelled cargo transport by Celttic Cruises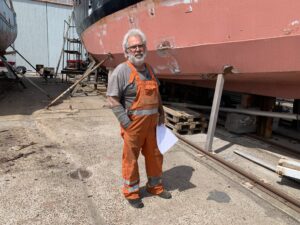 The pilot project's objective is to prove that wind propelled cargo transport via a modern specifically designed sailing cargo vessel, SV Lo Entropy, is cost effective and viable – and the future for achieving the goal with SV Lo Entropy is set.
Celtic Cruises aims to transform the way that road transport cargo, short sea containerized and palletized cargo is moved cost effectively with a reliable, fossil fuel free.
"We are changing the configuration of our cargo sailing vessel, SV Lo Entropy. The work will increase our hold capacity to enable the ship to carry 76 Euro pallets or approximately 50 tons equal to 2 of the largest capacity EU truck loads – 38 Euro pallets/24 tons per vehicle and more than the capacity of 3 forty foot containers). We have to set this goal as to fit into land transport's, or road, and short sea transport's supply and logistic's chain, using a common transport unit size; the Euro pallet. This will allow not only for an efficient intermodal transport operation, but will be price competitive with these other transport modes besides being truly environmentally friendly and emissions free transport mode," says Geoff Bourne.
Th SV Lo Entropy will, after the transformation, have the ability to undertake 468 voyages per year (234 voyages in each direction) carrying at full capacity – a total of 23, 400 tons or 35, 568 Euro pallets (120 x 80 x 146 cm high). Each voyage cycle (loading, sailing and off-loading) will be of an 18-hour duration allowing for 36 voyages every four weeks. Furthermore, SV Lo Entropy can transport 12 passengers in four cabins.
The SV Lo Entropy is expected to be ready for sail with full cargo for the first tim in May; its first green transport cargo via wind propelled sailing cargo vessel and the route is Oostend-Ramsgate.
No fuel, no emissions
Further, and as a secondary goal, Celtic Cruises is in conversation with other parties in designing and implementing an absolute zero emissions transport mode, a "no fuel, no emissions" concept. The aim is to produce and store hydrogen via onboard renewable energy sources; hydro (from the free spinning propeller whilst under sail), wave/flap technology, wind and solar renewable energy, and then via either a fuel cell or a converted combustion engine to use this stored hydrogen for propulsion and all domestic vessel needs. Discussions are ongoing, and should this aim be achieved, a suitable update will be released.
For more information please contact:
Geoff Boerne, director of Celtic Cruises
T: +45 53 55 50 80 | E: loentropy@gmail.com