8. September 2020
The Port of Skagen is testing environmental asphalt on Vestre Strandvej.
As part of the EU project Dual Ports, the Port of Skagen is testing an environmentally improved asphalt of 7,300m2 on Vestre Strandvej in Skagen, Denmark.
The new asphalt to be tested is NCC Green Asphalt, which is partly produced from recycled asphalt. In addition, a new production method is used which enables a lower production temperature.
The result will be a savings of CO2 emissions of 8,524 tones, corresponding to a reduction of 25%.

After laying the new asphalt, coating is sprinkled with AirClean® concrete granulate. This makes Vestre Strandvej an active Nitric Oxide (NOx) reducing surface. NOx is also called a nitrogen filter and it is gases formed by the combustion of petrol and diesel in cars and ships.
NOx consists of both NO and NO2. The gas NO2 is harmful to human health.
The active concrete granulate is specially modified with titanium dioxide (TiO2), which acts as a catalyst together with sunlight. In this catalytic process, passing NOx particles are converted to harmless Nitrate (NO3-), which is washed away by rain.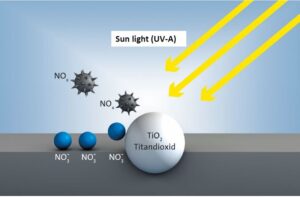 Preliminary tests in Germany and China estimate a NOx reduction of between 15-25%. This means that the new pavement on Vestre Strandvej will have the same air purifying effect as 70,000 m2 of forest.
The work is carried out in collaboration with NCC Industry A / S. The asphalt work is scheduled for execution in week 39 + 40. Traffic diversion must be expected at times.
Contact for further info: Business developer at the Port of Skagen, Jesper K. Rulffs on telephone +45 24 29 43 91 or mail jkr@skagenhavn.dk.
Surface pilot in Oostende, Belgium
DUAL Ports partner, the Port of Oostende, has also initiated a Surface pilot and will realise their pilot in November 2020. The Port of Skagen and the Port of Oostende has been cooperation on the work of the surface pilot, sharing knowledge and experiences. Together, they will are investigating the possibility to develop an assessment tool to follow up on the Surface pilots in Oostende and Skagen.