20. September 2018
Workshop put a spot on LNG opportunities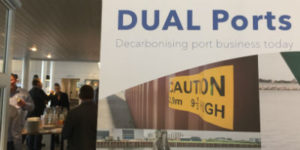 The Port of Skagen held an LNG workshop as project partner in the Interreg project Dual Ports, which aims to decarbonize the ports in the North Sea region and reduce the environmental footprint.
Nearly 20 contributors were on the workshop's programme to provide different perspectives and experiences with Liquified Natural Gas (LNG) fuel. The approximately 40 participants in the workshop were both project partners and external companies seeking knowledge about LNG now and in the future.
The Port of Skagen was the organizer of the conference and is working on highlighting the possibilities for establishing an LNG bunker plant at the Port of Skagen, and the outcomes of the workshop were very positive.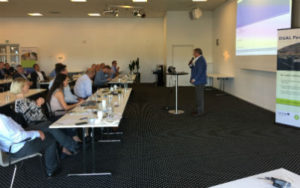 "We have had some very positive expressions from our contributors today, stating that Skagen has an optimal geographical position, making it attractive to invest in LNG bunkering in this area. We will definitely keep working on the business case of installing an LNG facility at the port", says Willy Hansen, CEO at Port of Skagen.
During the workshop, experiences, ambitions and knowledge was shared from different sectors of the maritime and fuel industry. Lars Persson from Swedegas in Sweden gave his examples on lessons learned as the first country to have a land based LNG bunker station. According to him the future is bright, although there are still challenges for the use of LNG. National legislations and regulations are working towards LNG, but the ports' own rules and procedures often still provide a challenge – technology is not an issue. Also from Greece, Stefanos Chonianakis from DEPA Public Gas Corporation SA gave examples of a government that is taking many steps towards the support of LNG in Greece.
One of the biggest challenges with LNG bunkering are security issues and lack of knowledge of the actual danger of using LNG. Hanne Hollander, real estate manager from the Port of Emden expressed some of the challenges when investigating LNG options. The German authorities have concerns in regards to potential accidents with LNG. The exchange of knowledge through this workshop revealed that LNG is much safer than many assume. LNG does not burn the same way as a normal fire, and accidents are even much less likely to occur.
During the day, the Port of Skagen had many inputs to work further on, for their pilot project within DUAL Ports.
"Our purpose of being part of DUAL Ports is to investigate the possibilities for an LNG plant in Skagen and make a business case. As a port, we are naturally occupied with providing the right facilities to the port's customers, and we want to develop the port's activities in respect to the environment, "says Jesper R. Rulffs, business developer at the Port of Skagen.
You can find presentations from all the speakers here.